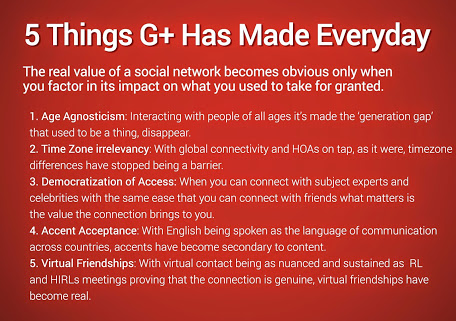 A Google+ affirmation graphic.
Tips on what works and doesn't work on G+
This is the second of a three-part series on Google Plus. Also see:
• Hey Google! Here's why Google+ is still a ghost town
• Why Google Plus is the antisocial network
Target audience: Marketing professionals, SEO specialists, PR pros, brand managers, businesses, nonprofits, educators, Web publishers, journalists.
It occurred to me, after spending a week deep-diving into Google+, that Plus is not a social network — or even a social layer. It's a global reboot of the message board.
If you want to succeed, you need to forget about your friends and your family. Leave them behind. There are cooler, smarter, funnier people on Google+ than we have in our own lives now. Continue reading →