Target audience: Marketing professionals, SEO specialists, PR pros, brand managers, businesses, nonprofits, educators, Web publishers, journalists.
There are both a number of applications I use every day and several I have played with that I thought I would share with you today. If you work in the marketing realm, or if you're running a startup, or you're the social media guru at your office, you'll likely find some of these five apps will enhance your productivity.
I have paid for some of these apps and others compel me but I don't really have a use for them yet; that said, I keep on returning to them.
Circloscope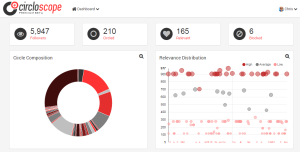 After complaining about Google+ in such articles as Why Google Plus is more like a forum than a social network and Hey Google! Here's why Google+ is still a ghost town  and Why Google+ Is the Antisocial Network, a number of Plussers came to my aid, telling me what a mess my Circles were. Continue reading →