Add this key weapon to your analytics arsenal
This is the first of a series on Google Webmaster Tools. Don't complain about the headline, I didn't write it!
Target audience: Businesses, brands, digital marketers, advertising agencies, SEO specialists, entrepreneurs, educators, journalists, Web publishers.
For most webmasters, their knowledge of Web analytics begins and ends with Google Analytics. And that's a shame.
Google Webmaster Tools is all you really need to become a Google-whisperer. Why spend all this time and money on Moz and Woorank to interpret how your brand is doing on Google when you can hear it directly from the mouth of God? (I exaggerate, but only slightly.)
I have been using Webmaster Tools a lot lately since I have been doing a lot of SEO strategy work and I have really had some serious fun working through some of the tools that Google basically begs you to adopt in order to make things super-easier for them — and therefore better for you, the site owner or manager.
Webmaster Tools is a big, sprawling pile of goodies. For today's post, let's focus just on International Targeting and HTML Improvements.
Location, location, location (International Targeting)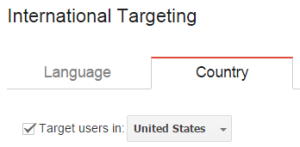 Be realistic. I know that the Internet is global and that there might well be a distant client on foreign shores, but you're better off to get as geographically specific as possible.
Do it for Google.
There are two ways to signal your language and location to Google: through the use of Hreflang Tags and through Country Targeting.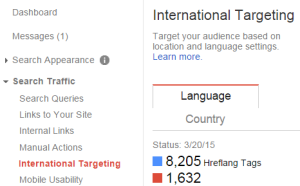 That said, if you happen to purchase a clever domain like Gerr.is — .is is a top-level domain referring to Iceland — Google doesn't give you much of a choice.
Whoops! I plan to shift my primary domain from gerr.is to gerriscorp.com in order to be able to target the United States in my Google Webmaster Tools.
While I admire the fine, fair, high-cheekboned people of Reykjavik and their colorful stallions, I don't know if they're my ideal geographic target.

Google Just Wants to Help You Help It (HTML Improvements)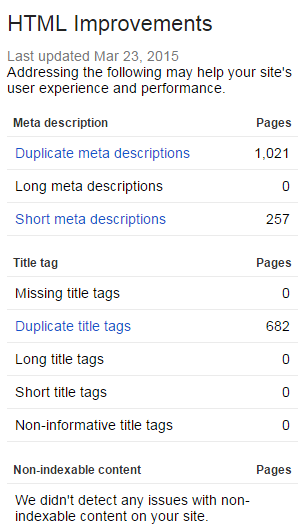 I feel as though folks are spending time and money using both free and paid tools like Moz and Woorank when Google is pretty darned explicit about what it wants and needs from you.
Google does care about Title and Description duplication and is happy to help you work through it.
Google is looking for Goldilocks titles and descriptions, searching for content that is not too short, too long, but just right.
Since Google explores your site using robots, spiders, and bots, their science is inexact.
Sometimes duplication isn't duplication at all but has to do with Canonical URLs, aliases, and things such as trailing slashes and URL variations.
Google has its quirks and oddities. It's 2015 and Google still requires us to submit both our plain domain as well as our URL with a WWW subdomain. So, sometimes duplication isn't simply duplicate content but issues with how you have your site domain set up.
I have three more subjects that I will discuss in the coming days: Google Only Speaks Structured Data (Sitemap.xml), You Can Lead a Google to Structure (Data Highlighter), and Are You Fast Enough? (PageSpeed Insights).  I look forward to continuing on our exploration of Google Webmaster Tools!Chris Abraham is a partner in Socialmedia.biz. Contact Chris via email, follow him on Twitter and Google Plus or leave a comment below.