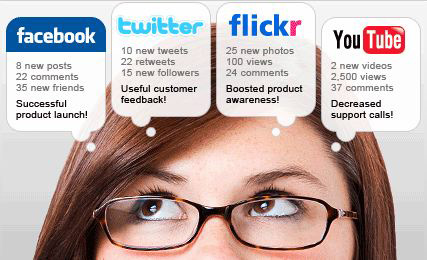 This is part of our ongoing series on social media tools for businesses.
Guest post by James Young
VP of Products, Spredfast
Doing social media right takes time. My colleagues and I engage in multiple social networks, some that you probably also use: Twitter, Facebook, LinkedIn, YouTube, Flickr, Slideshare, a blog and a few other networks.
Conversing with people in all of these places, and creating interesting, value-added content for each is a time-consuming business. It gets worse when you consider that you have to duplicate efforts across different social networks.
With Spredfast, I can do two things that make this so much more efficient. First, I can pull in all of the conversation taking place across all of the networks into one place, read through it and participate where I want to. Each and every day, I look for all of the people who have mentioned us or retweeted our tweets, and I thank them. I can do it easily right from my listening dashboard.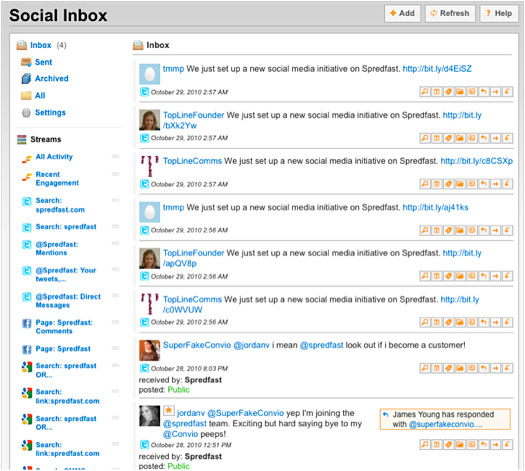 Planning content on weekly basis
Next, I can plan out the content I want to publish, schedule it out for the next few weeks, create the content (or, one day when we grow, assign it to someone to create), choose the social network or networks I want each piece to go to and save it. Spredfast will publish it on the schedule I've set. Typically, I will get a week's worth of content ready to go ahead of time, and then spend the majority of my remaining time just engaging with individuals.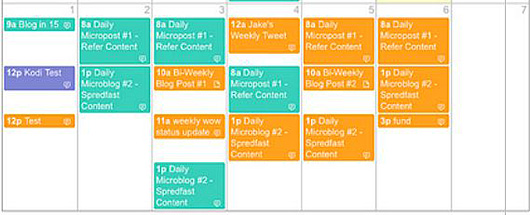 Tracking for insights and value
Like all activity within a good company or organization, I have to create some value. To prove I'm doing that, I need data. Some of the social networks provide a lot of good data, others not so much. Regardless, it used to take a lot of time to go into each network and gather the data I needed, pull it back into my master spreadsheet, and then do some crunching.
Spredfast makes that a lot easier for me, because it gathers two types of data into one dashboard. First, all of the content that I send out (both planned communication as well as off the cuff conversations I engage in) is tracked. For example, for each tweet I send, I can see how many times it was retweeted, by whom, what they said, how many people could have seen the retweet and if I included a link I can see how many times the link was clicked. For every post to my Facebook Page, I can see when someone comments, who they are, what they said, how many times the post was liked and how many times the link in my post was clicked. The list goes on across a wide variety of social networks and kinds of interaction people can have.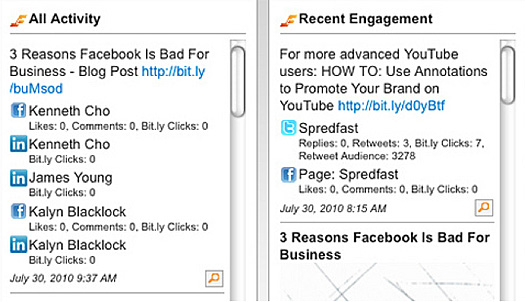 I can also see data that relates to my social media account (as opposed to my content), like number of friends, fans and followers. I can also see the volume of the conversation about my brand, like mentions in Twitter, references in blogs, etc.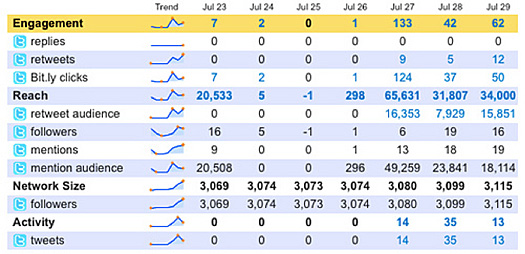 Before our recent release, I would export the data and do some analysis to come up with the answers I owed my bosses. Now, I can simply access the analytics dashboard and see the answers.
The big deal is that all of this data is in one dashboard, so I can jump straight to analysis, making my weekly report a whole lot easier to produce. I just create a graph or report in Spredfast, or I export the data and use Excel and PowerPoint.
It is important to track conversions, and Spredfast can be integrated with my integrated my Google Analytics account, and I tag all the links I send out in conversations. Spredfast does some cool stuff like creating unique shortened links for each content piece (including separate links for the same post sent into both Facebook and Twitter, for example), so when I look at my web funnel data, I can actually track a conversion all the way back to the individual tweet or post. Literally, I can tell my boss how many subscriptions came from social media activity, from each social network, from each account and from each individual content piece I published.

Now, I know that not all value is measured in conversions. So, all of those other things that are valuable, like engagement levels and reach, are available too, using the data in my dashboard. We have some internal, soft values we attach to that data, and ultimately arrive at a total value comprised of soft and hard (conversion) values for my activity this week, month or quarter.
Scaling engagement
I know many organizations are worried about giving a lot of staff and volunteers access to the organization's Twitter or Facebook accounts. This has some serious consequences. First, it usually limits the number of people empowered to engage in social media. Consequently, it decreases the quality of the social media engagement that does happen. How? Let's face it, we don't all have an unlimited supply of time, patience and creativity. Having more people involved raises the quantity of engagement, time to respond and content variety.
Spredfast makes this easier, too, because the many authors you may have are not logging into your Twitter account directly. They're logging into Spredfast, creating content and then publishing it to that Twitter account. One trusted person has already come in and connected Spredfast to the Twitter account. Spredfast also has "draft" function, which is particularly useful is you're working side-by-side a social media intern.
Best practices in social media is listening, engaging, identifying influences and tracking. Spredfast can help your nonprofit be efficient with these tasks.
Cost
Subscriptions to Spredfast start at start at $250 per month ($212 for nonprofit organizations). This article was originally written for a nonprofit blog.